Core Competencies:
Databases
Custom data sets can be delivered within minutes. Data Installs available for annual license.

15 Million Businesses w/ NAICS, Size, Family Tree
25 Million Business Executives
25 Million Business Executive Emails
20,000 Weekly New Businesses
246 Million Consumers with demographic selects
Database Subscription Products & Services
AtoZdatabases.com® & DataVu are the premier business and people reference/research databases with flexibility to select from hundreds of geographic and demographic selections for business and residential data sets. Allows bulk download of records.
LpPolice.com® is our Investigative Tool with unlimited access to billions of current & historical, cross-referenced public and private records including SSN.
Skip Tracing
Uncover Hidden Relationships & People of Interest
Link and Connect Current & Historical Data
Comprehensive Unified Public and Private Database
Live Feeds to Credit Bureau Data
Access Gun Permits, Licenses, Photos & More
Background Screening Services – pre-employment, etc.
Data Enhancement Services – append up to 350 Fields of data, reverse email appends with file or API access.
Exec@Home – Tie Business and Residential databases to each other to increase your contact reach.
Merge/Purge – highly accurate matching to remove duplicates within or across files of businesses or residents.
For more information, contact: Monica Messer
402.689.4501
Monica.Messer@databaseusallc.com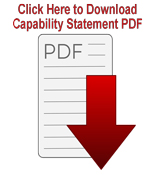 About DatabaseUSA®
DatabaseUSA® is a small business based in Omaha, Nebraska armed with a team of 300+ years of industry experience and knowledge. DatabaseUSA's team of 150 employees are dedicated to helping its customers receive the most comprehensive quality data solutions to help each agency achieve its mission.
Differentiators:
DatabaseUSA® combines its proprietary business and consumer data with real time data from specialty sources.
Triple Verified Data – original source, telephone verification, and web verification to assure accuracy
Out of Business Tracking
Executive Emails – Verified
Full SSN & DOB – Search and output
Reliable CELL & Landline Searches
Excellent Client Consulting & Support
No transaction fees for searches
Flexible pricing based on usage
NAICS Codes
511140 – Database & Directory Publishers
519130 – Internet Publishing & Web Search
561611 – Investigation Services
518210 – Data Processing & Hosting
541860 – Direct Mail Advertising
519190 – All Other Information Services
Product & Service Codes:
D317 – IT AND TELECOM- WEB-BASED SUBSCRIPTION
R702 – MANAGEMENT: DATA COLLECTION
Past Performance:
EEOC, EPA, DEA, FBI, US Border Patrol, US Marshals, ATF, US Customs, DOD, US Attorney's Office, US Secret Service and US State Department.

GSA #– GS35F295GA
FEDLINK # – LC14C7154
DUNS # – 963446914
EIN # – 27-1125991
CAGE# – 6LMG4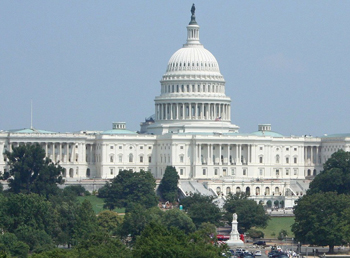 Affordable Data
Data Hygiene
Postcard Platform
Background Check
Tax and Revenue
Use the AtoZdatabases subscription web service to find businesses or individuals. If you are unable to locate people of interest in our active databases you may want to access our "Out of Business" database or link to our "Locate America" service that provides historical address and phone information for individuals. You will have access to weekly new businesses as they are added and weekly new movers from the consumer data set.
The government depends on taxes and revenue to effectively deliver public services to their citizens, Improve revenue collections and state tax compliance by collecting tax revenue from delinquent tax payers, under-reporters, non-filers and unregistered businesses.
Tax and Revenue
AtoZ databases provides access to all new businesses each month as well as the ability to determine how long each business has been in business. LocatePlus is the tool that will allow you to find anyone in the U.S. And if you have special search requirements our DatabaseUSA custom lists and data processing team is here to help.
Emergency Preparedness / Recovery
During an emergency it is important to identify the homes and businesses that will likely be impacted by the impending emergency. The AtoZdatabases.com web service is an ideal tool to draw a shape of the area of potential issue, download all businesses and/or households in that area, and begin notifying people via phone calls, public service announcement postcards, or emails. Data can be downloaded into .CSV or Excel files to add to your communication platform.
During times of crisis, federal government agencies must be able to communicate clearly and effectively. We provide targeted lookup capabilities in effected areas with the most up to date information through our web portal. AtoZdatabases portal allows for a map based search by radius or shape as the need is defined.
Emergency Preparedness or Recovery
Draw a shape based on your area of concern when you need to notify residents of impending flooding in their area.
Instantly view the latest residential data on your screen for immediate notifications.
Download the detailed contact information to your Emergency or Mass Notification Systems and utilize the latest information for better contact rates and results.
Law Enforcement / Security
LP Police is the premier online-investigative-research database for law enforcement professionals in the industry. We are trusted by over 2,000 law enforcement professionals who rely on our law enforcement software each day. These professionals represent the federal, state and local departments and offices nationwide.
Read More…
Trade
Whether you are local or international trader, you do not have the information needed to maximize your production unless you take advantage of AtoZdatabases easy to use business web portal. Internet search engines will only get you a few of the largest traders in the United States. Eighty percent of all US businesses are small to medium sized. You can find new trading partners in an instant whenever you need to expand your production.
Trade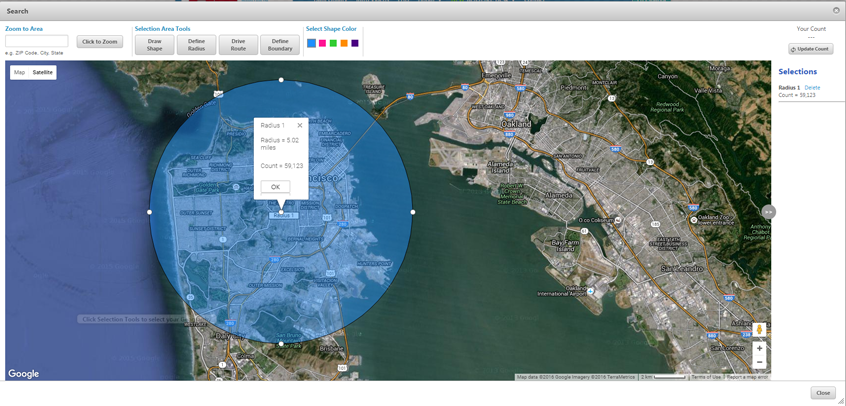 AtoZdatabases look up web portal allows for easy targeting of businesses in every industry. In a 5-mile-wide area in downtown San Francisco there are 51, 123 businesses. If you are looking for wholesalers and distributors in that area, you will find there are 1,915 of them in the same area. From there it is just an easy select of your specific product leading to all of the businesses and contacts you are looking for in order to increase your business.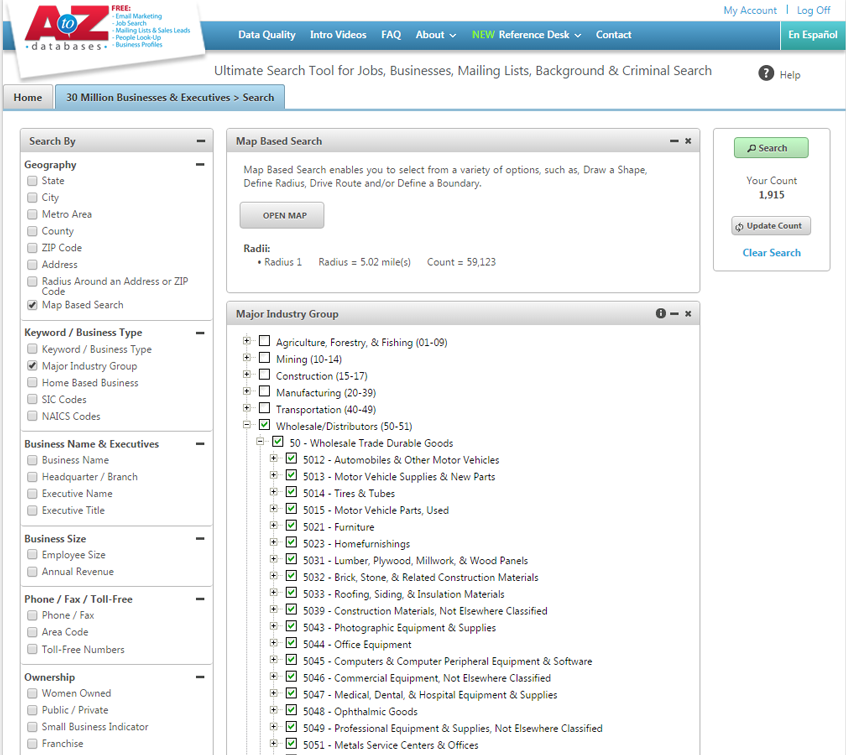 Compliance / Legal
Federal Agencies sometimes need to investigate U.S. Businesses and or people that are charging parties for potential legal or compliance issues.
Compliance / Legal
Federal Agencies use DatabaseUSA's AtoZdatabases Web Service as a database with an easy-to-use search interface to: profiles of companies in the United States; white pages, telephone directories, and consumer reporting resources; and a sophisticated investigative tool for identifying current contact information for individuals in the United States in order to locate witnesses and charging parties involved in investigations and cases. The LP Police web service subscription provides an in-depth real time information that may be used for permissible purposes such as law enforcement.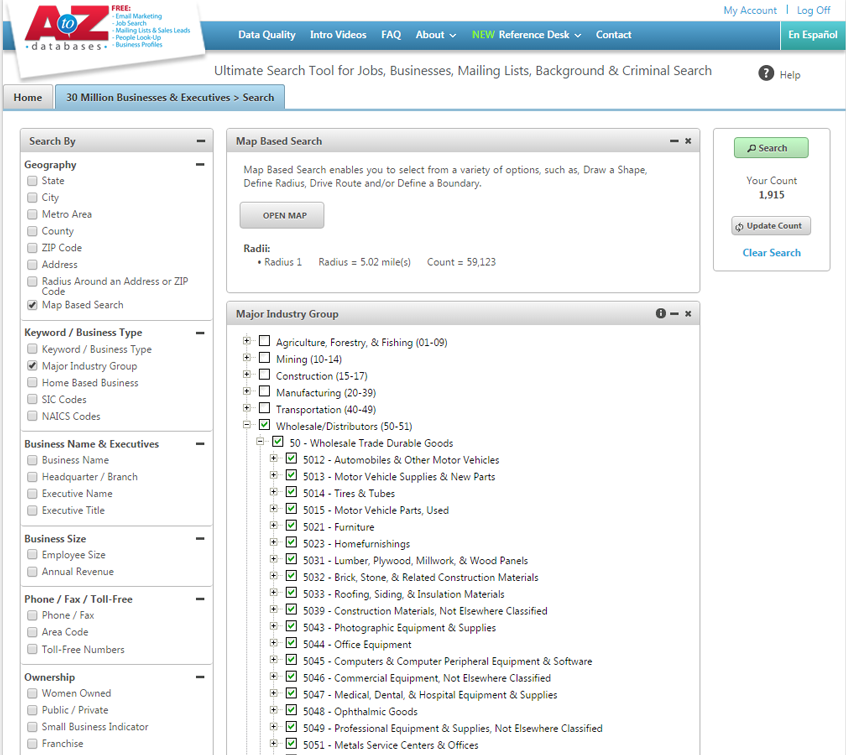 LPPolice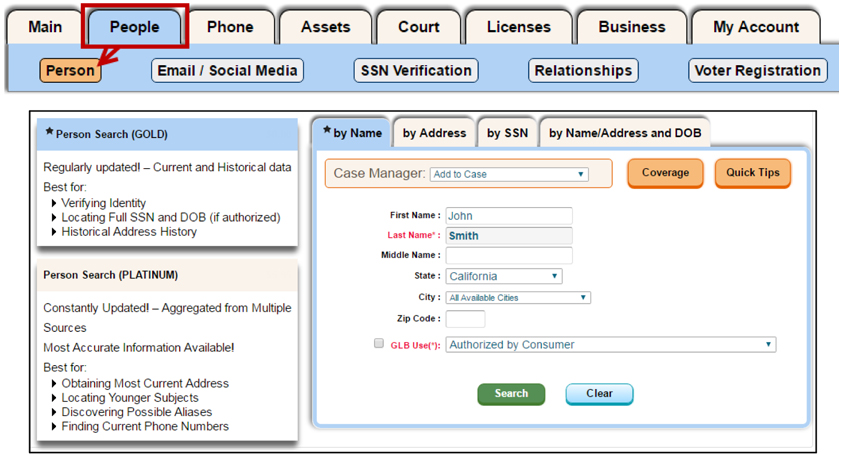 HARNESSING BIG DATA